When I first started trading, I made every mistake you can think of.  It took me a while, but after years of experience and being consistently successful, I figured out a process that can help save time and money.
Here are the Top 5 Things I wish I know BEFORE I Started Trading:
1) Identify your Goals and Lifestyle:
When we first start out, we assume we will put our money into the market and at some point in future it will grow.  Most people think this way, however, trading in the stock market is much more challenging.  Therefore, we need to first establish what are our goals and what we are trying to accomplish by trading.  Are you looking to generate a supplemental income, trade full-time, save money for retirement?  It is important to understand one's goals prior to embarking on trading in the market since those goals will determine how you behave and it differs drastically based on your goals. 
You also need to identify what your current lifestyle will allow you to do.  Are you going to try to trade full-time?  Do you have a full-time career?  If you have a full-time job, it will be challenging to dive right in as full-time trader.  You will need more time to study and educate yourself on the market and do the necessary research.  What does your lifestyle allow?  
Once you determine your goals and lifestyle, write them down and then match them up.  This will help you figure out how to achieve these goals based on where you are right now and where you ultimately want to be.
2) Surround yourself with Successful Mentors/Ideologies:
The road to investing in the market may feel daunting, but keep in mind that someone's already successfully done what you want to achieve!  Research who these people are and their journeys to success.  For example, if you want to be a long-term investor and want to try value investing, then check out Warren Buffett.  If you want to look at growth stocks, check out the book "How to Make Money in Stocks" by William O'Neil.  His book talks about stocks that have historically been successful and identifies what those traits are.  This will help you set-up your scans when you are ready to buy stocks in the market. 
Surround yourself with mentors…whether it is a blog, YouTube channel, book, etc.  Social media also makes it so easy to reach out to these mentors.  You may be surprised that these people may want to help.  Remember, they started out just like you did at one point in their lives. 
3) Develop a Business Plan:
Develop a Business Plan around your methodology.  A book that I found useful is "Super Trader" by Van Tharp.  He goes into detail about developing a business plan around your trading, the psychology behind the trade, as well as risk management and position sizing.  Something I discovered is that Position Sizing and Risk Management are more important than the stocks you pick.    
Now that you have identified what your goals are and what your lifestyle is, the next step is to figure out what you intend to trade.  What type of markets, Stocks, or ETFs are you looking to trade?  Write this down and have a business plan for each method of planning and style of trading.  My advice is to have separate plan for each methodology.  For example, keep your "Shorter term trades" in one account, "Long-term retirement trades" in a another account, etc.  Focus on one goal, become proficient and then take some time to learn.  What may take you a year or two to learn will last you the rest of your trading career.  Take the time to learn your craft!   
Also, be sure to note the following in your business plan.  When do you intend to trade?  Where are your ideas going to come from (your own research, reading newspaper, blogs, etc.)?   Be careful about having too many sources because this larger funnel of ideas will be tough to manage.  Instead, try to focus on one. 
4) Create a Trading Plan:
Develop a trading plan for each trade you are going to have.  You can download a free trading plan template by clicking here. This trading plan will help keep you organized regarding what stocks you are trading.  Write down what your actual plan is for this trade and do all this grunt work before you enter the trade.  Note on your trading plan where do you plan to enter, under what circumstances, and what is your exit strategy.  Keep track of the reward and risk of the trade.  What are your reasons and basic idea for the trade?  What do you like about the company and the stock?   Whatever is the answer, write it down!  Also, remember that trading is also emotional so keep track of overall feelings about the transaction.  Trust your gut!  Think about the other person and why they are selling to you.  Step away as a neutral observer. 
5) Everyone Takes Losses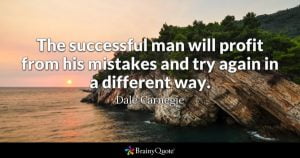 When you are finally ready to fund your account and start trading, start out small!  Make sure it's an amount you're not worried about losing if you lose all of it.  You will make mistakes and everyone takes losses.  It's a learning process.  Be prepared to lose.  Continue to adapt your process and when you are consistently successful, then allocate more dollars to grow your fund.  Don't forget to review your trading plan and your business plan once a quarter or at least semi-annually to look at all trades.  This will help you continue to grow as a trader and see what's going right and wrong.   
These are the 5 helpful tips I wish I knew when I first started trading.  This upfront work is going to save you so much time and money.  I wish you much success with your trading!
Leave a comment on below and share what tips have worked for you.