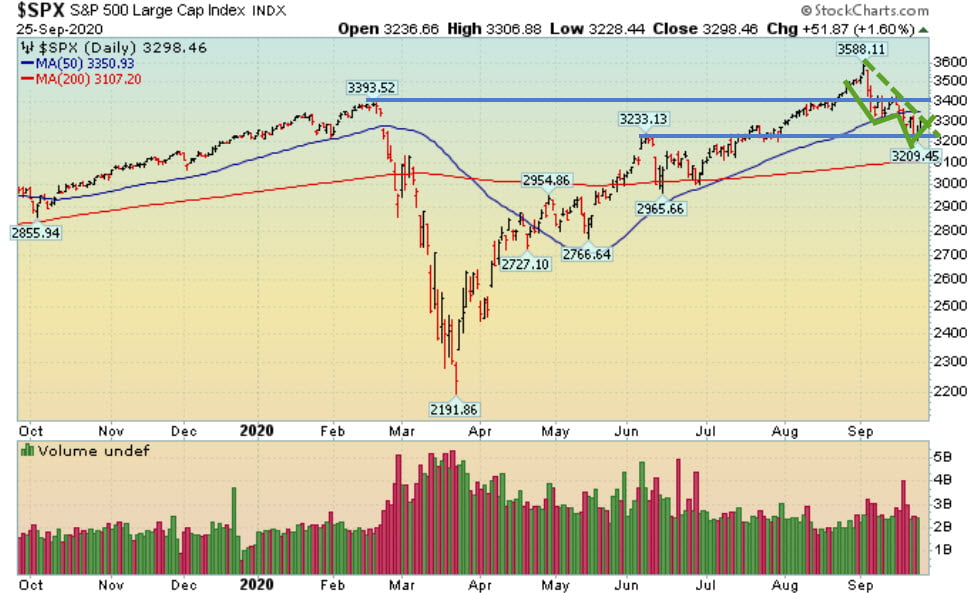 Week In Review: Stocks End Week Mixed As The 3rd Quarter Winds Down
The market ended the week mixed as the third quarter winds down. The third quarter started off strong, but sellers showed up in early September and sent stocks lower in the last few weeks. We are still "up" on the quarter (that could change by 9/30's close) but well off our highs. It's "normal" to see the market pullback before an election and then rally hard after the election is over. I'm still bullish but can't argue that a defensive stance is warranted until we see the market trade back above its 50 DMA line. On the downside, if last week's lows are breached – we are likely headed lower.  
Monday-Wednesday's Action:
Stocks fell hard on Monday as fear spread regarding a second wave and the market is dealing with the political uncertainty around who will replace RBG on the Supreme Court. The action appears to be a washout low because many leading stocks were up and up nicely on the day. Stocks rallied nicely on Tuesday as buyers showed up and sent stocks higher after Monday's late day rebound. Stocks fell hard on Wednesday as sellers showed up as the Nasdaq 100 approached its 50 DMA line. Remember the 50 DMA has been support since the March low and is now becoming resistance. In other news, J&J said it is entering Stage 3 trials for its Covid-19 vaccine.
Thursday & Friday Action:

On Thursday, the market was very choppy and traded between positive and negative territory as the market struggled for direction. First-time claims for state unemployment benefits rose to 870,000, beating estimates for 850,000. Meanwhile, Continuing Claims also came in higher than the Street's estimate. Stocks were quiet on Friday as investors digested the last full week of the third quarter. 
Market Outlook: Flood The System With Liquidity 
In September, we saw just about every major Central Bank reiterate their dovish stance which should bode well for asset prices- instead they are falling. That could be the first sign that "something has changed." Earlier this year, global governments and global central banks, once again, stepped in with massive rate cuts and other "aid" packages to help "stimulate" both Main Street and Wall Street. As long as March's lows hold, the market will likely move sideways to higher. On the other hand, if March's lows are breached, then look out below. As always, keep your losses small and never argue with the tape.
Do You Know The Most Under-Valued Stocks In The Market?
 Our Members Do. Take a FREE TRIAL – CheapBargainStocks.com