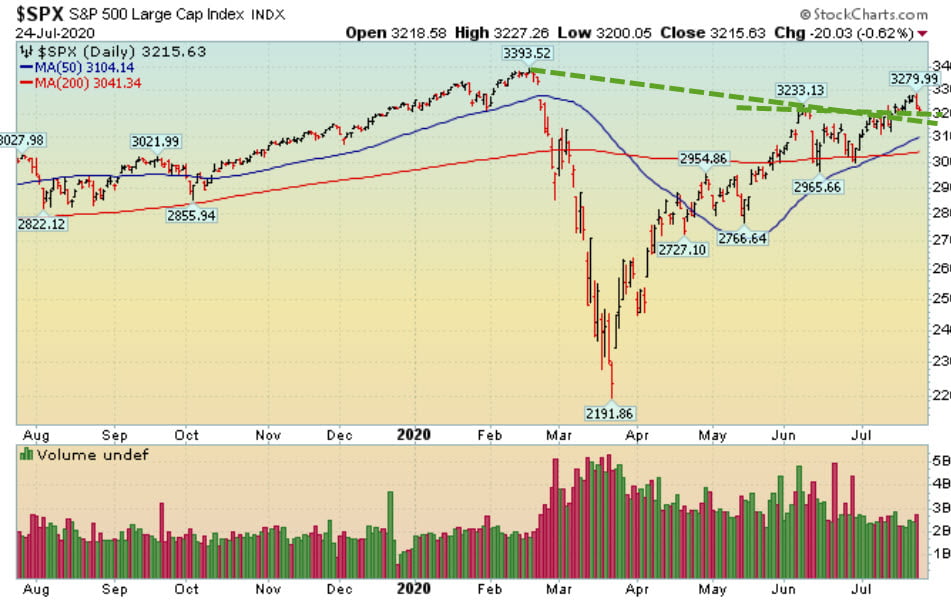 Week-In-Review: Second Weekly Decline As Earnings Continues In Droves

The market fell for the second straight week as a slew of earnings continued to be released. As mentioned several times in this report over the past few weeks, the market was super extended and way over due to pullback ahead of earnings season. Right now, the pullback is not pretty but it is not ugly either. As long as the major indices and our leaders continue trading above their respective 50 DMA lines the market deserves the bullish benefit of the doubt. Separately, back in 2016, the market pulled back ahead of the election then soared. I wouldn't be surprised to see that happen again this year, especially with Covid. 
Monday-Wednesday's Action:
Stocks opened lower but closed higher on Monday as the Nasdaq Composite and Nasdaq 100 continued to race higher. Shares of Amazon were among the biggest winners on Monday as the retail giant raced higher (up +8.04%) in heavy volume. In other news, traders were happy when bullish signs emerged regarding a potential coronavirus vaccine and news spread of another round of U.S. fiscal stimulus. On Tuesday, stocks rallied after Europe announced another huge stimulus package and threw more easy money at both Main Street and Wall Street. The market ended mixed as the Nasdaq fell while the Dow & S&P 500 rallied. Oil stocks broke out and caught a nice bid. Stocks ended higher on Wednesday on continued hope of more stimulus. In other news, The U.S. agreed to pay Pfizer and its German-partner BioNTech $1.95 billion to produce 100 million coronavirus vaccine doses if it proves to be safe and effective. After Wednesday's close Microsoft and Tesla were some of the big cap stocks to report earnings. Microsoft fell in the after market and Tesla rallied over 4%.
Thursday & Friday Action:

Stocks fell hard on Thursday as sellers finally showed up after a long hiatus. Treasury Secretary Steven Mnuchin said an extension in unemployment benefits will be based on "approximately 70% wage replacement" which was the first official hint of what the next stimulus plan will look like. Stocks fell on Friday as the market continued pulling back. Intel gapped down and that dragged the rest of the market lower. 
Market Outlook: Flood The System With Liquidity 
Global governments and global central banks stepped in with massive rate cuts and other "aid" packages to help "stimulate" both Main Street and Wall Street. So far, it is working as intended. As long as March's lows hold, the market will likely move sideways to higher. On the other hand, if March's lows are breached, then look out below. As always, keep your losses small and never argue with the tape.
Do You Know The Most Under-Valued Stocks In The Market?
 Our Members Do. Take a FREE TRIAL – CheapBargainStocks.com