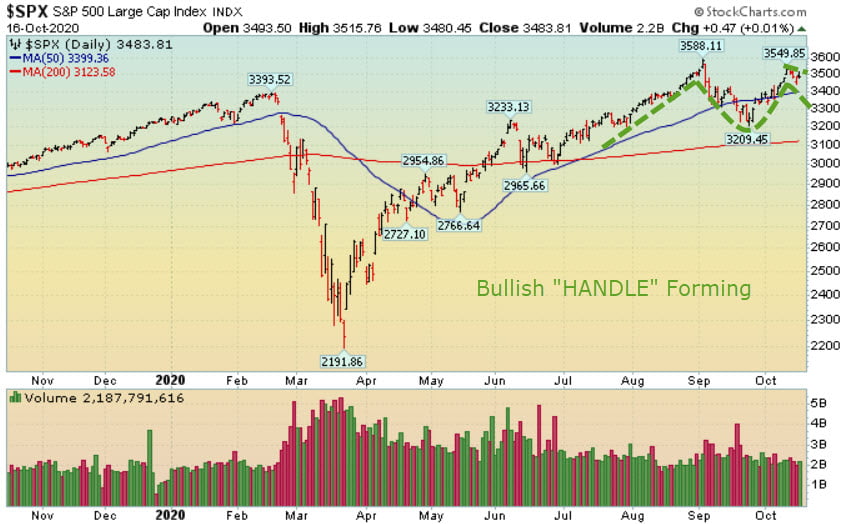 Week-In-Review: Two Things That Are Driving Stocks Right Now

The market is focused on the next round of stimulus and earnings right now. The election is less of a concern at the moment because it is still a few weeks away and, at this point, just about everyone has made up their mind on who they are voting for. It is just a matter of when, not if, the stimulus gets passed. Right now, both sides are flexing their political muscles ahead of the election, but a deal will get done and the market understands this point – very well. That is one of the primary reason's weakness is bought and stocks continue to rally. So far earnings are mixed as most of the big banks just reported earnings. Going forward, I always like to look for two things during earnings season: First, are the numbers good? Second, how do the stocks (and the market) react to the news? Keep that in mind over the next few weeks. Stepping back, the market remains resilient and the bulls remain in clear control as the major indices appear to be forming a bullish handle and remain above support (50 DMA line). Friday's late day selloff in tech stocks was a bit disconcerting and I'll continue to monitor it next week to see if it continues or if the bulls show up and quell the bearish pressure. 
Monday-Wednesday's Action:
Stocks ripped higher on Monday, led by the Nasdaq and the stay-at-home stocks. The market has been racing higher since the March 2020 low and paused in September to pullback and digest that gain. The pullback is now over, and higher prices will likely follow. Stocks were mixed to lower on Tuesday as a slew of large companies reported earnings. JP Morgan, Delta, and Blackrock were some of the companies that reported mixed numbers. Delta reported a loss of over $5B as the airline is trying to navigate its way through the pandemic. Blackrock gapped up as the company reported another strong quarter. Stocks fell on Wednesday after a few Mnuchin lowered expectations for a stimulus deal before election. Separately, a few more bank stocks reported earnings and the reaction was mixed, Goldman Sachs reported strong numbers, but Bank of America gapped down over 4% after reporting a lousy quarter.
Thursday & Friday Action:
On Thursday, the market fell hard after stimulus talks stalled (again). The market sold off hard in the morning, once again, buyers showed up and defended the market, helping the major indices to close in the middle to upper half of the daily range. Treasury Secretary Steven Mnuchin told CNBC's "Squawk Box" that "politics" may be getting in the way of an agreement being struck, adding that Democrats still want an "all or nothing" deal. Mnuchin also said that he and President Donald Trump are committed to getting a stimulus package done and that while it will be hard to get one accomplished before the election, they will keep trying. Stocks rallied on Friday after retail sales were announced but sellers showed up in the final hour and sent stocks lower.
Market Outlook: Flood The System With Liquidity
The bulls are back in control as September 2020 appeared to be a normal (but steep) correction within a longer term (and strong) uptrend. Earlier this year, global governments, and global central banks, once again, stepped in with massive rate cuts and other "aid" packages to help "stimulate" both Main Street and Wall Street. As long as March's lows hold, the market will likely move sideways to higher. On the other hand, if March's lows are breached, then look out below. As always, keep your losses small and never argue with the tape.
Do You Know The Most Under-Valued Stocks In The Market?
 Our Members Do. Take a FREE TRIAL – CheapBargainStocks.com