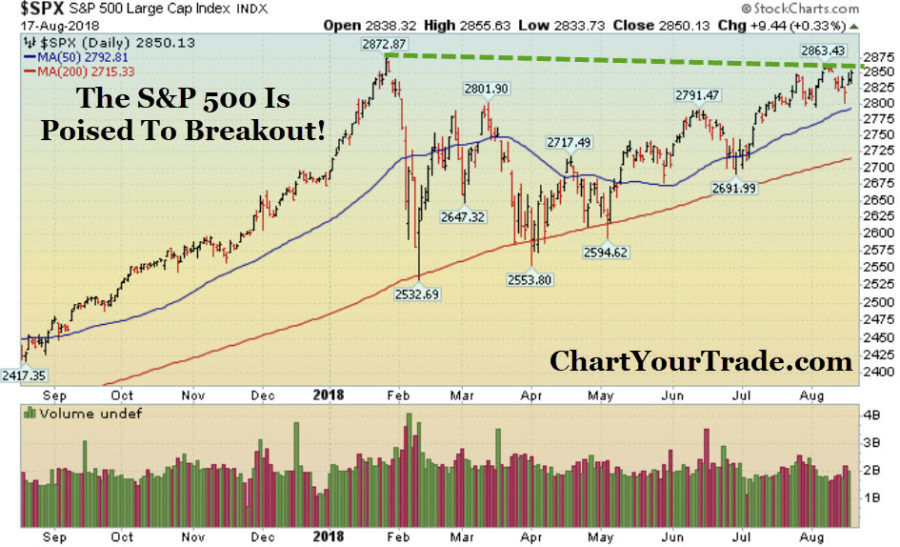 Week-In-Review: Big Week On Wall Street As Bulls Defend Support
It was very encouraging to see the bulls show up and defend important support last week. The Dow Jones Industrial Average, S&P 500 and Nasdaq Composite all bounced off their respective 50 DMA lines which I've highlighted for you several times in this report as an important area to watch. Going forward, as long as support holds, the bulls deserve the benefit of the doubt. On the other hand, if support breaks, then we are due for a steeper pullback. Stepping back, looking at the bigger picture, the major indices are just consolidating just below their respective record highs which may turn out to be a bullish sign, especially if the market can breakout and hit new highs.  
Mon-Wed Action:
On Monday, stocks opened higher but closed lower as fear spread regarding the debt crisis in Turkey. Investors are concerned that the debt crisis may spread to other emerging countries. Elsewhere, Elon Musk said Saudi Arabia wanted to take Tesla private. But the Saudi sovereign wealth fund denied the claim. Stocks rallied on Tuesday as investors the Turkish Lira stabilized and Home Depot reported strong earnings before the open. In other news, Elon Musk is still under pressure for his tweet last week about taking Tesla private. Stocks opened sharply lower on Wednesday as the major indices tested important support (50 DMA line). On cue, the bulls showed up and defended that important level, helping the major indices to end in the middle to upper half of their daily ranges (that tends to be a bullish sign). 
Thur & Fri Action:
On Thursday, the market rallied sharply after the bulls showed up and defended important support. There were a few big headlines that helped the market rally: China and the US said they will resume trade talks to avoid a trade war, and earning were strong – Cisco Systems and Wal-Mart both gapped up after reporting strong earnings. WMT surged a whopping 10% after the retail giant finally made significant progress with their online e-commerce business. Stocks opened lower and closed higher on Friday. In other news, President Trump publicly pushed for companies to start reporting earnings every six months, instead of every quarter. The idea, which has been entertained in the past, is designed to help CEO's and investors focus on the "long term" and not have the pressure of reporting earnings every three months. 
Market Outlook: Bulls Defend Support
The bulls showed up and defended support (50 DMA line) in August which is a big sign of strength. The next big level of support is the 200 DMA line, then February's low. For now, as long as those levels hold, the longer-term uptrend remains intact. Conversely, if those levels break, look out below.  As always, keep your losses small and never argue with the tape. Want A Bargain? Take A FREE 1-Month Trial To CheapBargainStocks.com and Always Know The Cheapest Stocks In The Market Every Week