Do You Know The Most Under-Valued Stocks In The Market?
 Our Members Do. Take a FREE TRIAL – CheapBargainStocks.com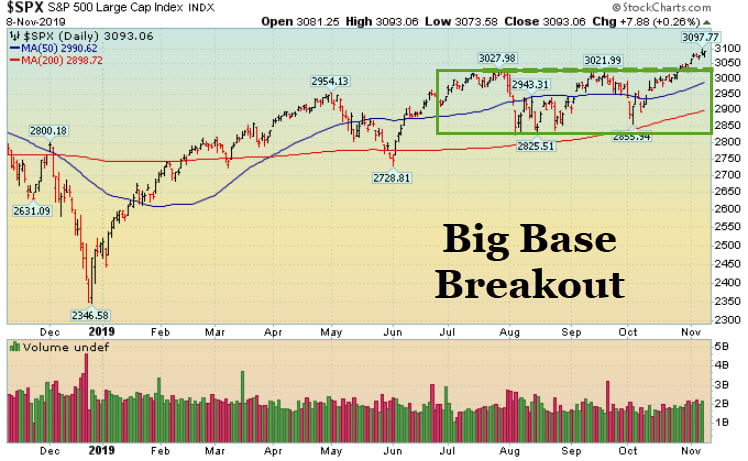 Week-In-Review: Stocks End Week Higher As Trade Tensions Ease
The Dow Jones Industrial Average, S&P 500, Nasdaq Composite, and Nasdaq 100 all hit fresh record highs last week as the market continued to rally after the latest round of earnings data was released and trade tensions eased between the US and China. In the short-term, the market is extended and overdue to pullback. The next logical areas of support to watch are the prior chart highs and then the 50 day moving average lines for the major indices. So far, the action remains very healthy and a nice light volume pullback would do wonders to help the market longer-term. Separately, it is important to note that we are heading into a seasonally strong period for the market.
Monday-Wednesday's Action:
On Monday, the market continued to rally, helping the Dow Jones Industrial Average hit a fresh record high. Over the weekend there was more positive rhetoric between the US and China and that helped lift the market higher. Additionally, earnings have been better than expected which is another net positive for the market. On Tuesday, stocks were quiet as investors digested the latest round of earnings and economic data. So far, earnings have mostly beat estimates which has helped the market hit new highs. Meanwhile, economic data remains mixed at best. The ISM service index came in at 54.7, beating estimates for 53.5. estimate as forecast by economists polled by Dow Jones. On Wednesday, the market was quiet as the major indices paused to digest the recent rally. The news was quiet and most people focused on the location of where the next Trump/Xi meeting will be.
Thursday & Friday Action:

On Thursday, stocks rallied nicely after China said that the trade tariffs will be canceled and that signaled a big positive development in the ongoing trade talks. Stocks ended mixed on Friday. Disney dominated the headlines after the entertainment giant reported stronger-than-expected earnings and said it is ready to launch its streaming service, Disney + next week. In other news, 74% of the 425 S&P 500 companies that have reported earnings beat estimates, according to FactSet.
Market Outlook: Easy Money Is Back

Once again, global central banks are back on the easy money bandwagon after the Fed and the ECB both announced more easy money measures directly aimed at stimulating global markets. The market has soared all year based on two key points: optimism that a trade deal will be reached between the U.S. and China and more easy money from global central banks. Earlier this year, the Federal Reserve reversed its stance and moved back into the easy money camp. Then, other central banks followed suit and that means easy money is back to being front and center for the market. Separately, the trade talks are moving in the right direction which is another positive. As always, keep your losses small and never argue with the tape.
Do You Know The Most Under-Valued Stocks In The Market?
 Our Members Do. Take a FREE TRIAL – CheapBargainStocks.com